What is Automation?
Automation (aka. Triggers) allows you to get on with the day-to-day running of your business, while your marketing messages send out automatically. They are communications automatically triggered by a dated event in your customer journey. Emails, letters or SMS messages can be sent to your customers when they reach specific key dates provided by your CRM system.
How do I set Automated Communication up?
To set up your automated communications first select the Automation tab in your BriefYourMarket system. Next choose the type of communication you would like to automate by selecting the Start button. This can be email, SMS or letter.
Please note that SMS & letters are Pay As You Go features so you need to ensure you have sufficient credit in your system to support your sends.
[See 'Adding credit to your BriefYourMarket system' for further help.]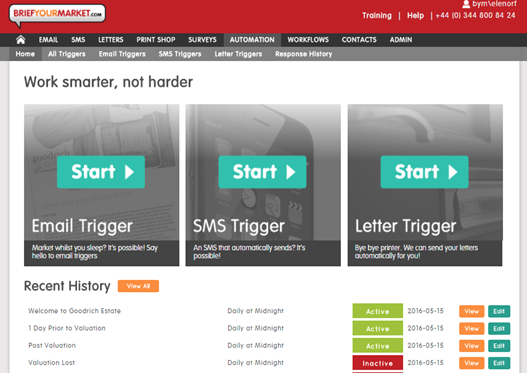 To start you will be presented with the Edit Trigger screen – Email triggers will require you to decide what type of communication it is; Marketing or Transactional.
If you are unsure as to which you should use please read the descriptions carefully and the Terms & Conditions as incorrect use can lead to fines.

Next give your Trigger a Name, this is for your reference only, your contacts will not see this.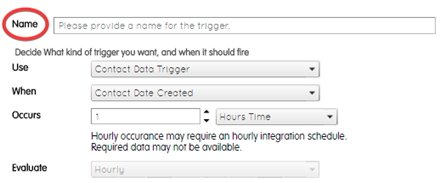 Use; This is the type of trigger you will be setting up.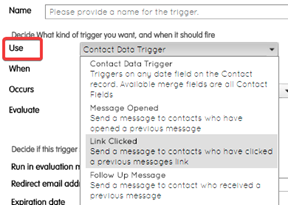 When; Decide on the event in your customer journey that you would like your communication to run from, all the possible dates you can trigger off for your CRM system will be in this drop down for you to choose from.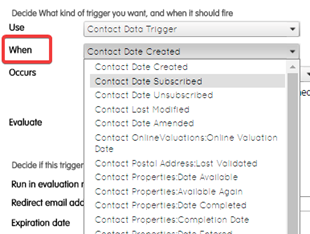 Occurs; Choose how long before or after the date your communication will go out .
E.g If you would like to send a message out 1 week before an event you would select 'Occurs - 1 Weeks Time'.
If you wanted to send a welcome message 1 day after someone has signed up to your service you would select 'Occurs - 1 day ago'.
Time = before the event/date.
Ago = after the event/date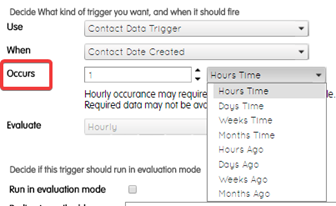 Evaluate; Choose the time you would like your communication to be sent.
(Note; All letters need to be set to before 4pm to make that days print run.)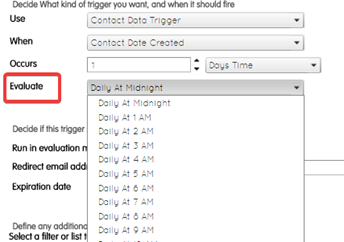 If you would like to segment your data further you can also add in addition contact filters. If you would like to send to all of your customers that reach that date event just leave this set to 'All'.
Next create your Email, SMS or Letter as you normally would. Don't forget you must copy the html over to text version. Click on Text and then select the Copy HTML to text.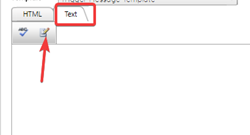 When complete select Save at the top of the page.
Once saved you will get additional options where you can preview and test your trigger.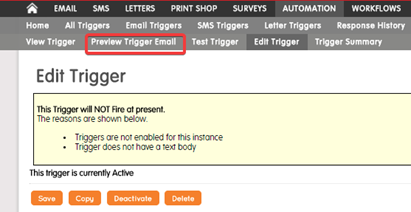 [ See 'How to test Triggers' for further assistance]