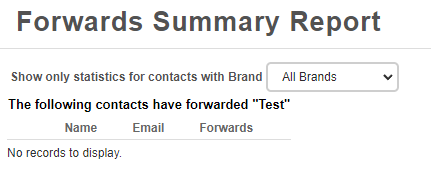 The forwards report contains a summary of everyone who has used the BriefYourMarket forward function to pass along this email, along with a count of who they forwarded it to. This does not count standard forwards from email clients.
The BriefYourMarket forward function permits an extra potential route of prospective contact data for yourselves. Anyone forwarded to under this feature has the option to opt in (as though they were subscribing), and, should they so choose to opt in, they will be treated as a normal portion of your database
If you need any help with the forwards summary report, feel free to get in touch with our support team on phone at 0344 800 8424, on livechat, or you can send us a message by creating a ticket using the button below!